Jaquan Cowart is an American rapper, musician and writer who was born on September 30, 1999 in Florida, USA. His birth name is Jaquan Cowart but he is wedly known as StunnaGabbana to his fans. He is best known for his album STAND OUT and STUNT4EVAA. He has gained worldwide fame for his song "Waiting for you."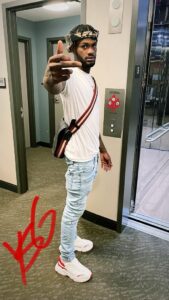 Name : Jaquan Cowart
Date of Birth : September 30, 1999
Age (as in 2022) : 23 years old
Birthplace : Winter Haven, Florida, USA
Nationality : American
Gender : Male
Occupation : Rapper, musician, writer, producer
Started Journey From : 2014-present
Net Worth : $1 Million-$3 Million (approx.)
Family Members & Education –
Jaquan likes to keep his personal life secret and away from the media as he has not revealed his relationship status yet. At just the 9th grader At Lake Region Highschool where he also graduated his family he was the Youngest out of 6 siblings and his favorite was always his brother Jashawn who is also known by GGSHAWN his home town always knew he had it in him to go big
Father's Name : Will be updated
Mother's Name : Will be updated
Marital Status : Unmarried
School : Lake Region Highschool
College : Will be updated
Educational Qualification : Graduated
Career –
The Name Stunna Was Given To Him By One of his brothers " Big Guap" (Jeremiah Bonny) while making music through out the years and how he always came threw stunting in real life 15-17 was when the fame and buzz around the city started to kick in after releasing A Ep Called "More Love" prod by PhreshNasty Stunna and Phresh just locked In From Day One And went on to make classic hits like "Love Is Hell" $ "More Love" with getting the attention and Co signs from more rising stars such as YNW MELLY of Fl Stunna Name Really Started getting out there. By 2018, The Whole Winter Haven Knew who Stunna was But shortly after the buzz Some Legal Matters fell into play which cause Stunna to be away from approximately 4 years Sent to prison But don't think that stop the rise and his fame because it didn't Stunna gained over 19.6k plays alone And 11.6k followers on his Instagram page Since His Release And Now Goes By "StunnaGabbana" He's came Out with Video "YSG Gone Blow" And Released Two Studio Projects "Stunt4evaa" & "Stand Out" Both Out On All Platforms Be On The Lookout But Don't Be Surprised When This Guy Is On The Biggest Stage his Hunger Sets Him Aside From Many
Dream
He always had a dream to be the biggest in his town but it's like the other he got the bigger the dream he played basketball and football coming up and was know for his skills on the court Starting varsity.
★★★Fact About StunnaGabbana★★★
What's Jaquan's Height?
~ 5 feet 4 inches (approx)
What's Jaquan's Weight?
~ Not known
Hair Colour?
~ Black
Eyes color?
~ Black
Does Jaquan Consume Alcohol?
~ No
Does Jaquan Smoke?
~ No
About personal life?
~ The name "StunnaGabbana" was titled by one of his brothers.
He gained fame by the age of 15/17.